This blog is part 2 in our series on successfully using events for business development. Part 1 is "Five Ways to Maximize New Business Opportunities Before an Event"
The event felt like a major success (and you are exhausted!). There were dozens of prospects that fitted neatly into your targeted groups. You may not have had the chance to talk to all of them, but you have a pocket full of business cards, and a ton of relevant touch points that will be incredibly useful in turning those prospects into clients.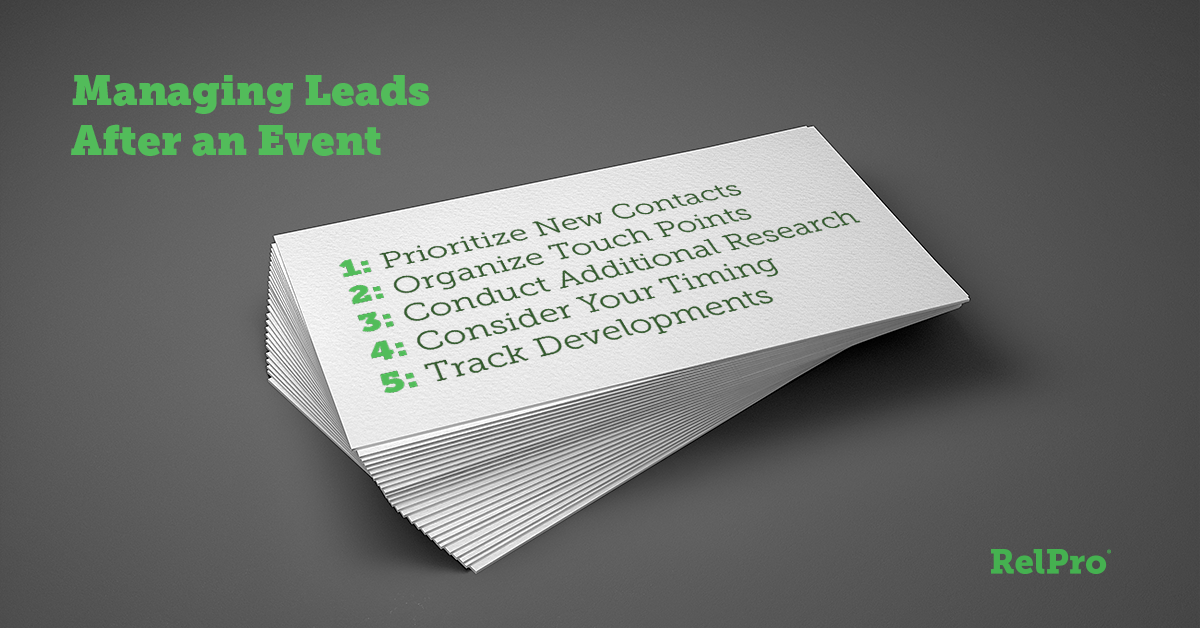 But with so much at your fingertips, what's next?
1. First up, prioritize your new contacts. Sure that guy with the Grateful Dead tie was fun, but he made it clear - his company isn't in position to spend money at the moment. Reaching out to him can wait. On the other hand, the woman who wasn't exactly a conversationalist leads a business generation team at a bank that you've been targeting for months. She should be right at the top of your list. Go through your cards and triage them into piles that will enable you to focus on the top prospects first, but not forget about those who may not need immediate attention.
2. Hopefully you took some notes at the event (or otherwise you have a great memory!), because you'll want to refer to your conversation when you reach out after the event (pro-tip: immediately after ending your conversation, write a few details on the person's business card to help you remember the person and the conversation). Use these conversational moments to break the ice in your message, and to remind them of who you are and the value you may be able to bring to them professionally. If you spoke about a restaurant you both like, definitely mention it. If you're both into skiing, that's a great way to bond. Remember: prospects are humans too!
3. Now that you know who you need to reach out to, and you've organized the highlights of the conversations you had at the event, you need to consider the best way to take the touch point to the next level. In some cases it may be obvious. In others it may take a little bit of digging. This is a great opportunity to use a relationship intelligence tool to get that extra nugget of relevant information that connects to the conversation you had with the prospect. The prospect will be pleased to see that you took time to reflect and research after your conversation – that you did your homework after the event and you are paying attention to them rather than just sending out automated follow-up emails. Maybe your research reveals they recently joined a new team at work, and your product or service could be helpful. They may have launched a new product and would benefit from your support in an area that is new to them. These and countless other examples can all be discovered efficiently if you're using the right prospect research applications.
4. Consider the timing of your outreach. Most people aren't looking to reconnect with a person they met 20 minutes after the event. In fact, after an event, many attendees likely have lots to catch up on - whatever they missed while they were out of the office – just like you! In many cases it's a good idea to wait 24 hours before reaching-out. If attendees travelled to the event from out of town, consider their time zone. Also think about their industry. Workers in tech & media often start working later in the morning and work into the night, whereas as those in finance are often early risers.
5. After you send out the initial notes it makes sense to keep an eye on those top prospects and look for reasons to reach out. That can often be an arduous task if you're doing it manually. RelPro Alerts take the effort out of the process by automatically sending you news and other intelligence updates on the contacts that are most important to you. It only takes a few seconds to set up, and the information they provide gives you plenty of fodder for future outreach and connections.
BONUS:
You've gone through all of your business cards and made all of the initial outreach, but there's still opportunity out there, especially if you have access to the event's guest list. This list can be a gold mine for prospects, particularly if you are a sponsor of the event – you may not have met them but they will likely have heard of you. You might be tempted to shoot them all a mass email apologizing for missing them at the event, but there's a better strategy. Categorize these prospects into groups. If, for example you have several targets in private equity, develop a single note for them, and of course personalize with the recipient's name. You can then do the same for wealth management prospects with a slightly adjusted note. Include a specific time and place for a meeting that requires a response. While this may not have a completely personal touch, it makes a big difference when you compare it to a general note to a large group of mostly unrelated targets, and it initiates the specific conversation you want to have.
Using these strategies doesn't guarantee success at events, but it has helped our business generation and boosted our event ROI significantly. A recent event generated more than a dozen in-person follow up meetings with those with whom my team connected with face-to-face at the event. Adding to that, the emails to those that we didn't meet in person that day actually doubled that number of meetings. Furthering the point of their effectiveness, the emails had an open rate of nearly 50%.
There's no doubt that effective networking that leads to conversions is both and art and science. There's also no doubt that following this proven process will put you in the best position to capitalize on the opportunities in front of you.
To learn more about how RelPro sales intelligence can save you time and deliver valuable insights ahead of your next event, please connect with our Customer Success team by email at support@relpro.com or by phone at (888) 561-7890.
About RelPro
RelPro's Relationship Intelligence Platform was built with the experience that there is no one nirvana source of B2B Company and Decision-Maker data – so why rely on one source of data? RelPro integrates data from best-in-class partners and the web to provide you with a unique Global database of over 7 Million Companies & 150 Million Business Decision-Makers, allowing you to easily identify new prospects and close deals faster. RelPro includes automated Prospect Research to quickly inform your outreach, and powerful Alerts that provide a call-to-action prompting timely interactions with prospects and clients. To learn more about RelPro, visit our website – www.relpro.com, give us a call – (888) 561-7890 or send us an email – info@relpro.com, or sign up for a demo. To learn what our customers are saying about RelPro, read the reviews on G2 Crowd.