Fall is one of the busiest seasons for events, especially for B2B businesses. My colleagues and I have a dozen on our schedules, and one in particular presents a major opportunity – and a challenge. We're sponsoring the event, and that investment makes it all the more important to make sure we're properly prepared for any and all opportunities that may come up – and to create some opportunities of our own. I thought it might be helpful to share some tactics that have proved successful in the past: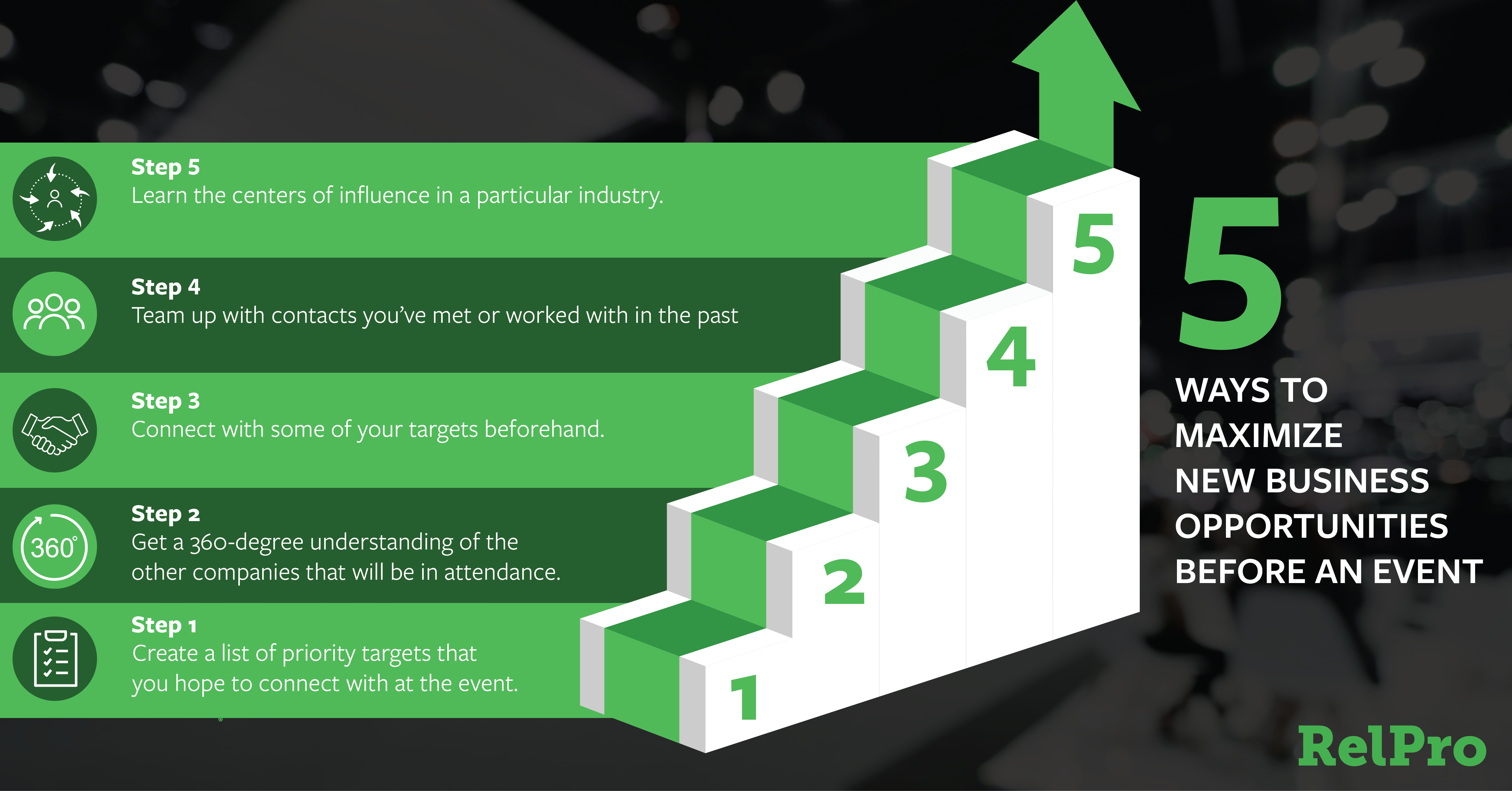 1. Create a list of priority target companies that you hope to connect with at the event
For companies you already know are your targets, that's easy. For other companies, you'll need an efficient way of researching them, establishing whether they fit your "perfect customer" profile, and then gathering / curating insights on them. Using a sophisticated sales intelligence tool before getting to a conference allows you to know more about your targeted companies than simply what's on their website and social media feeds. A sales intelligence tool that integrates your workflow across your CRM, company websites, industry insights and social sites can save you a ton of time (which may be the difference between preparing properly for the event, and missing some valuable snippet which can make all the difference).
2. Get a 360-degree understanding of your target company's attendees – and keep tabs on them
Once you have your target companies identified, you can research the people representing them at the event. Use your CRM to see whether you've had interactions with them (or their colleagues) before, research each prospect's background and personal interests – look to find some things in common ("common denominators") which can help you make a great (and memorable) first impression at the event that will differentiate you from your competitors. And stay informed about the individual, and their company, before (and after) the event - creating a RelPro alert can make this an effortless process, ensuring that you will be "on the pulse" of the prospect and their company when you meet with them.
3. Connect with some of your targets beforehand
For some events (especially when you are sponsoring them) you may have a list of attendees in advance. If that's the case, letting prospects know that you'll be attending an event creates some mindshare before the event, and potentially scheduling some time to chat during the event can warm up a cold lead in advance and signal to them your serious interest in spending time with them. RelPro users have access to contact information for these individuals irrespective of their seniority, industry and company size.
4. Team up with attendees you've met or worked with in the past
These events don't have to be solo endeavors. If you know a client, old friend or business associate will also be attending, talk to them beforehand, and see if there's a way to join forces. You can help each other by asking each other insightful questions in front of prospects that allow each of you to highlight your service offering in an authentic manner.
5. Learn the "Centers of Influence" in a particular industry
At some industry-focused events, connecting specifically with a variety of prospects may not be the most efficient use of your time. Before the event, take some steps to identify the influencers who have a significant following in the community. He or she could be another service provider (who serves the same community), a long-time experienced and well-connected member of the industry ecosystem that people look up to, a member of the media, or a personality that has built a large following on social media. Connecting with them could simultaneously open dozens of doors to new business, and put you in position to bring up your relationship with them in conversation
BONUS TIP:
If you're an event sponsor, make certain to take advantage of all the perks. Sponsoring an event should be more than simply getting your logo on the stage and the program. For example, check with the organizer to see if you can promote relevant thought leadership in the event reminders. You can also offer a free trial of your product to attendees prior to the event, giving them an opportunity to familiarize themselves with what you do, provide informed feedback at the event, and spread the word. Collecting business cards for a raffle of extended free trials can also identify prospects who would be inclined to use the subscription after getting a full understanding of your offer. And don't be shy to ask event organizers for additional ways in which they can help you - event organizers rely on keeping their sponsors happy to support future events. If you present a reasonable idea to reach attendees, they may enthusiastically support the effort.
Anyone who regularly attends events knows it usually comes down to making personal connections with people. Following these preparatory steps will help give you the information and the touch points needed to make attending an event a success.
Wondering how to best take those leads you generate at an event and turn them into clients? Keep an eye out for our blog on that in the coming weeks!
To learn more about how RelPro sales intelligence can save you time and deliver valuable insights ahead of your next event, please connect with our Customer Success team by email at support@relpro.com or by phone at (888) 561-7890.
About RelPro
RelPro's Relationship Intelligence Platform was built with the experience that there is no one nirvana source of B2B Company and Decision-Maker data – so why rely on one source of data? RelPro integrates data from best-in-class partners and the web to provide you with a unique Global database of over 7 Million Companies & 150 Million Business Decision-Makers, allowing you to easily identify new prospects and close deals faster. RelPro includes automated Prospect Research to quickly inform your outreach, and powerful Alerts that provide a call-to-action prompting timely interactions with prospects and clients. To learn more about RelPro, visit our website – www.relpro.com, give us a call – (888) 561-7890 or send us an email – info@relpro.com, or sign up for a demo. To learn what our customers are saying about RelPro, read the reviews on G2 Crowd.